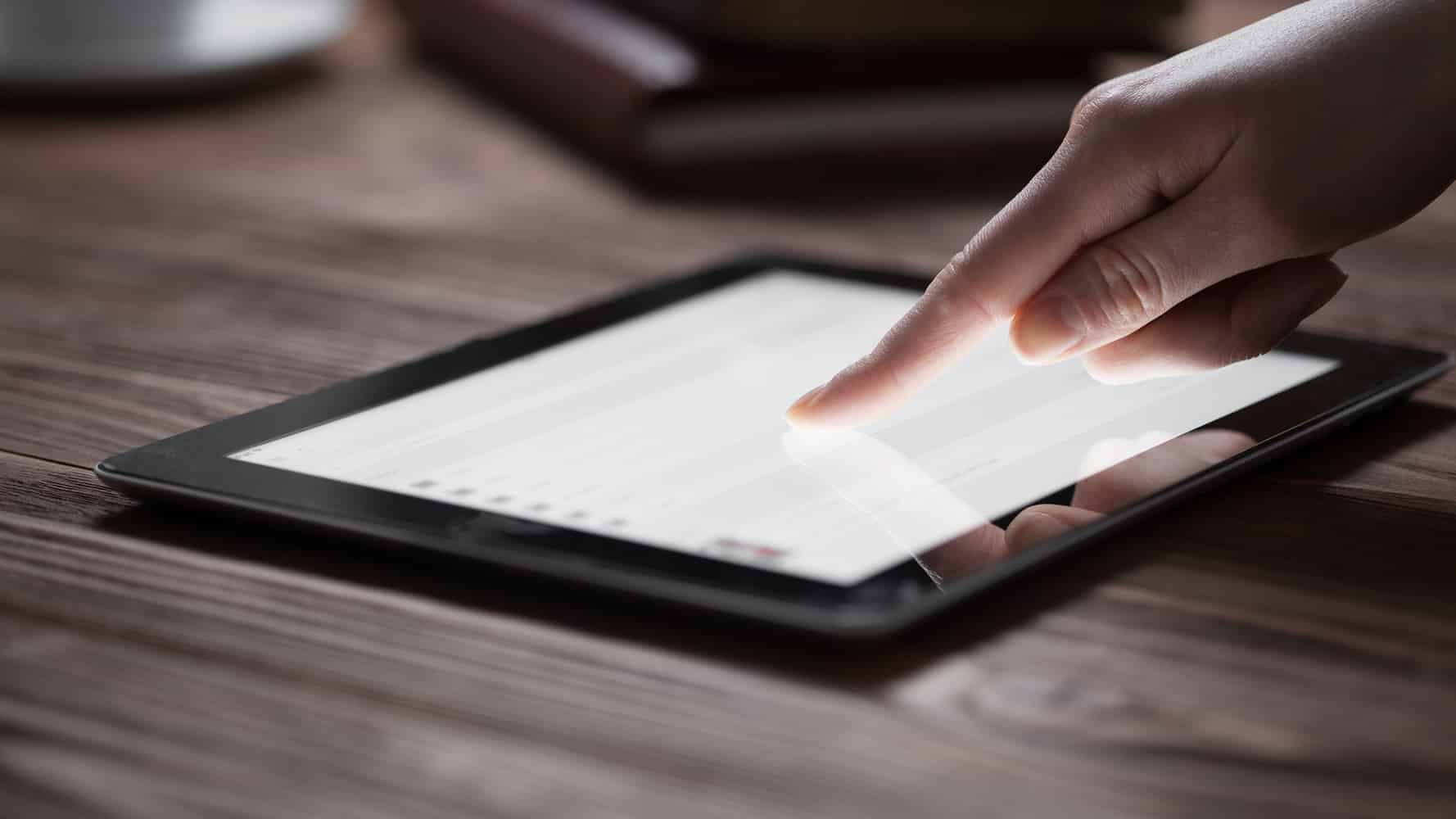 Working with the iPad every day – the good, the bad and the ugly
How can I increase the amount of productive work I can do while on the road?
Leaders tend to travel a lot. This is why they are wondering how they can increase the amount of productive work that can be done on the road.
In my work as a consultant for isolutions I've seen many leaders choosing the iPad pro to solve this problem. I decided to give this solution a try and find out what working with the iPad in a Microsoft environment really is like.
The good (or what I recommend doing with the iPad)
These are the things that I tried and found to work great with the iPad.
Email
Communicating by email is one thing that works great with the iPad pro. The keyboard is surprisingly good. I used the outlook app for emailing. It is a simple yet powerful app that makes emails on the road a lot of fun.
Taking notes
Another thing that works great with the iPad is taking notes. I mainly did it in meetings. The battery life and the slim design of the iPad really come to play here. OneNote became my preferred tool for taking notes because it syncs back with my company account and makes notes available immediately for people who have to process them. Also, I like the additional functionality such as directly taking optimized pictures of whiteboards or the automatic creation of geometric shapes from drawings (ink to Shape).
Chatting
Working in a fairly modern company, chat has turned into the main internal communication method. Using Microsoft Teams and the app on the iPad is great. It makes asking questions to colleagues so easy and fast. I also used a third-party WhatsApp app to communicate. Besides the security and compliance risks the app I used really wasn't working well. I definitely recommend establishing teams chats within your organization.
Online Meetings
Speaking of Microsoft Teams: I used the teams app a couple of times to participate in online meetings. This worked great for me. It's easy to join a scheduled meeting, to participate in it (with the camera on or off) and to check your notes while you're in the meeting. Even sharing my screen works well on the iPad.
Giving feedback on content
A frequent leadership task is giving feedback on content created by others. I've seen many leaders asking their assistants to create PDF files for them to review. This gives the ability to use the Apple pencil to write directly into the document and give instant feedback. The downside of this approach is the amount of work required by the assistant. This is why I tried giving feedback on documents by reviewing the actual original file. Many times, I was able to open the specific file by using the link that was sent to me by email or chat. I used the Word app to either write comments into the document or make small adjustments to the content directly. Sometimes it is also sufficient to post the feedback as a message in Teams. All of this worked great for me. The Office apps are powerful and easy enough to use for feedback purposes.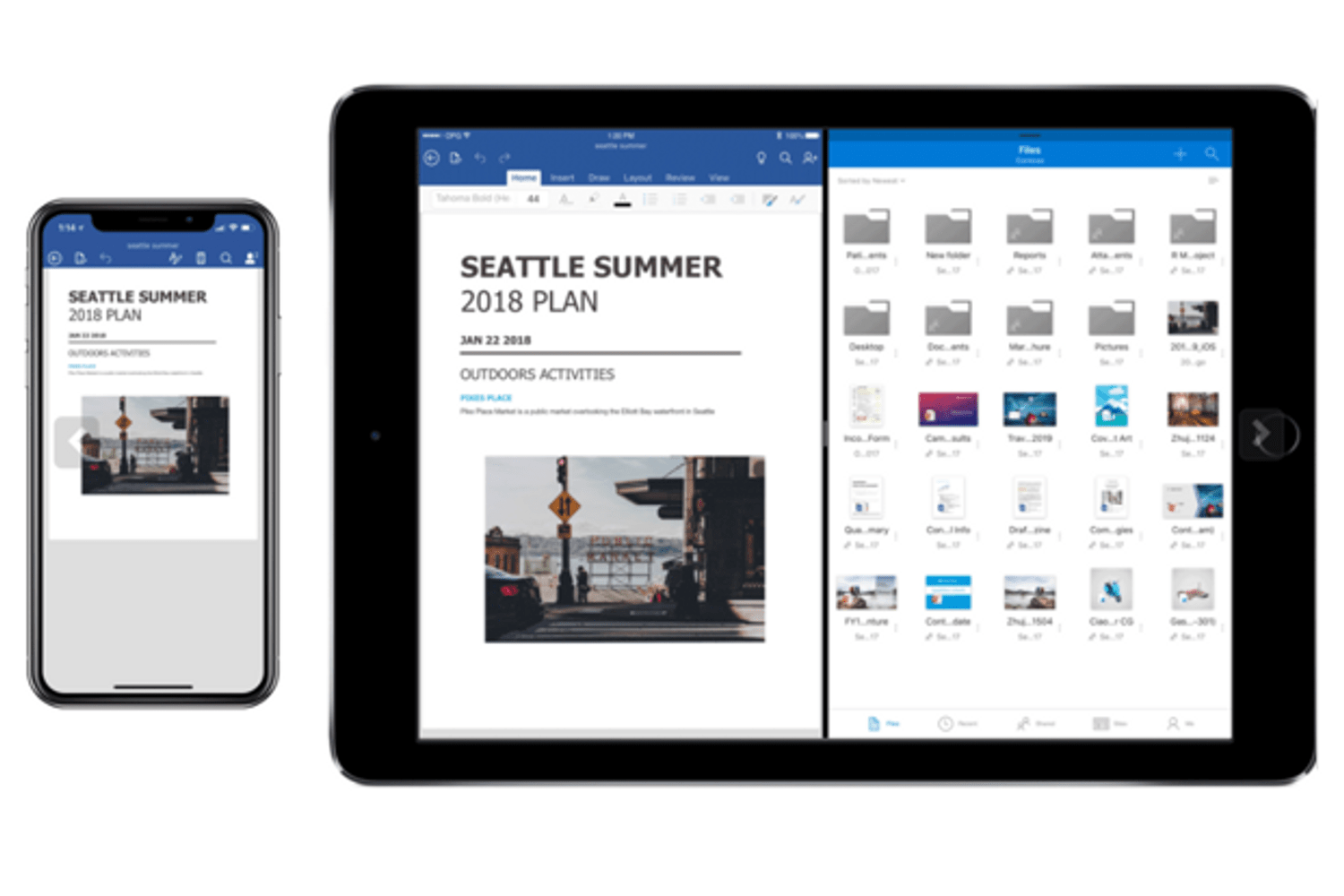 When I wanted to review content that was not sent to me, I used the OneDrive app and it's library function to search through the company documents. This works great when I'm looking for content that is stored in places which I already visited a lot. Finding content in places I don't go to often, turned out to be more difficult, although it can be achieved by using the SharePoint app. Feel free to contact me for help with this.
The bad (or what I don't recommend doing with the iPad)
Besides the many things that worked great for me, I also tried a couple of things that I really would not recommend doing with the iPad.
Creating content
Top of the list of things not to do with the iPad is to actually create new content. I tried to create a PowerPoint presentation and it was very annoying. There were many problems, especially with shapes. Also, many functions I would have needed to create content, are missing.
Relying on custom web tools
Many companies use custom tools to get routine work done. Some of these tools have mobile apps but those sometimes offer only limited functionality. Many are web optimized but not for the iPad use case. If you have tasks that you need to perform on such a custom app, you need to test this first before relying on your iPad to do the job. I had a problem with our project management tool because there was an error on any iPad browser I tested.
The ugly (or what needs to be fixed)
While working with the iPad, I discovered several things that are frustrating in the day to day work but could be fixed easily.
Sending links to pages in OneNote (iPad)
In the iPad version of the OneNote app it is not possible to copy a link to a specific page. This is a function I miss a lot since I often want to send out links to specific content in a notebook. (User Voice)
Bullet points in Microsoft Teams Messages (iPad)
I use bullet points a lot to structure content. I love how you can use the formatting function in teams to structure content. Having said that, I really miss the ability for bullet points on the iPad. (User Voice)
Bullet points in Outlook Messages (iPad)
The same goes for the Outlook app. Bullet points are used so often to give clarity and structure to messages sent out. Having that ability would leverage the possibilities when working on the iPad. (User Voice)
Searching for Office 365 Groups
Microsoft's collaboration tools heavily rely on the underlying Office 365 Groups (often used as collaboration spaces). Searching for these groups in any of the Microsoft Apps (Teams, OneDrive and SharePoint) is a real pain. You have to search at the right place and usually the entire name of the group needs to be typed to get any results. Teams also lacks the ability to search the list of teams you are a member of. This is not really state-of-the-art. (User Voice for Teams Search, User Voice One Drive)
Sorting Teams groups
When working with Microsoft Teams, it is very likely that one is a member of many teams. In the desktop version it's possible to sort your list of teams to get a better overview. This function is not available on the iPad. (User Voice)
Microsoft uses the platform User Voice to collect feedback on their products. This is why I added all of the links to the feature requests. If any of these are also a pain for you, feel free to "upvote" them so they are handled by Microsoft with more priority.
Overall, I really like working with the iPad and Microsoft's modern collaboration tools. What is your experience? Looking forward to your questions and feedback. Feel free to contact me directly or use the comment section to post your experience or questions.
This blog post is part of a series that talks about the top 10 questions executives have about modern collaboration. Find out more:
#1 – How do I organize the collaboration with my direct reports efficiently?
#2 – How do I keep on top of all my communication channels?
#3 – Which channel do I choose to get my message across clearly?
#4 – How can I increase the amount of productive work I can do while on the road?
#5 – How do I prepare effectively for meetings?
#6 – How do I lead an effective online meeting?
#7 – How do I give clear feedback on a document?
#8 – How can I document the outcome of meetings more efficiently while keeping up with legal requirements?
#9 – What do I have to do to be a role model in an increasing digital world?
#10 – What are best practice tipps of other companies?
Some deep dive about the technical setup
You want to know more about the setup I used for testing? Here you go:
Hardware
iPad: iPad Pro 2017, 10.5 inch
Keyboard: Apple Smart Keyboard for iPad pro 10.5 inch
Pen: Apple Pen
Apps
Microsoft Outlook App (email)
Microsoft Teams App (chatting and video conferencing)
Microsoft OneNote (meeting notes and ideation)
Microsoft Word (reviewing word documents)
Microsoft Power Point (reviewing power points)
Microsoft Excel (reviewing excels)
Microsoft OneDrive (access to files both personal and shared with me)
Microsoft SharePoint (searching for content)
Many more for all the fun stuff you can do with an iPad
Service
Office 365 E3 Subscription with an Office 365 Group (contains SharePoint, Microsoft Teams and much more) per customer and organizational teams
If you have any questions or comments, please do not hesitate to contact me. I am happy to help.