Closer to the customer with Dynamics 365
We support you from the introduction of a CRM solution up to the active customer guidance.
Create a customer experience that sets you apart from your competitors. By integrating marketing, sales and customer service processes, we work with you to create a 360° customer view. We support you in addressing your customers in an individual and relevant manner, so that you can achieve higher customer satisfaction and generate additional revenue.
Save time in the sales process. With the extended integration of Dynamics 365 Sales and Teams you communicate directly and without media disruption with your sales crew.
Sales is team work and with integration with Microsoft Teams, collaboration can now be simplified and strengthened from the local sales team to the Global Account Management team.
Make your workday easier with the integration of Microsoft Teams in Microsoft Dynamics 365 Sales. Directly from Microsoft Dynamics 365 Sales, you can write to your colleagues via Teams and inform them about the status of a sales opportunity or retrieve valuable information.
This is how it works: Directly from Microsoft Dynamics Sales, you can start a chat conversation on an opportunity with a colleague in Microsoft Teams. In addition, your sales team can mention you via Teams regarding an opportunity with a so-called @mentioning, which is immediately visible in Dynamics 365 Sales on the opportunity. This makes seamless, cross-system collaboration that much easier.
The advanced Teams integration further provides the ability to use AI, Microsoft Graph, and Dataverse data to suggest people from their organization who could help you with a particular data set – for example, people who closed a similar sales opportunity at another time.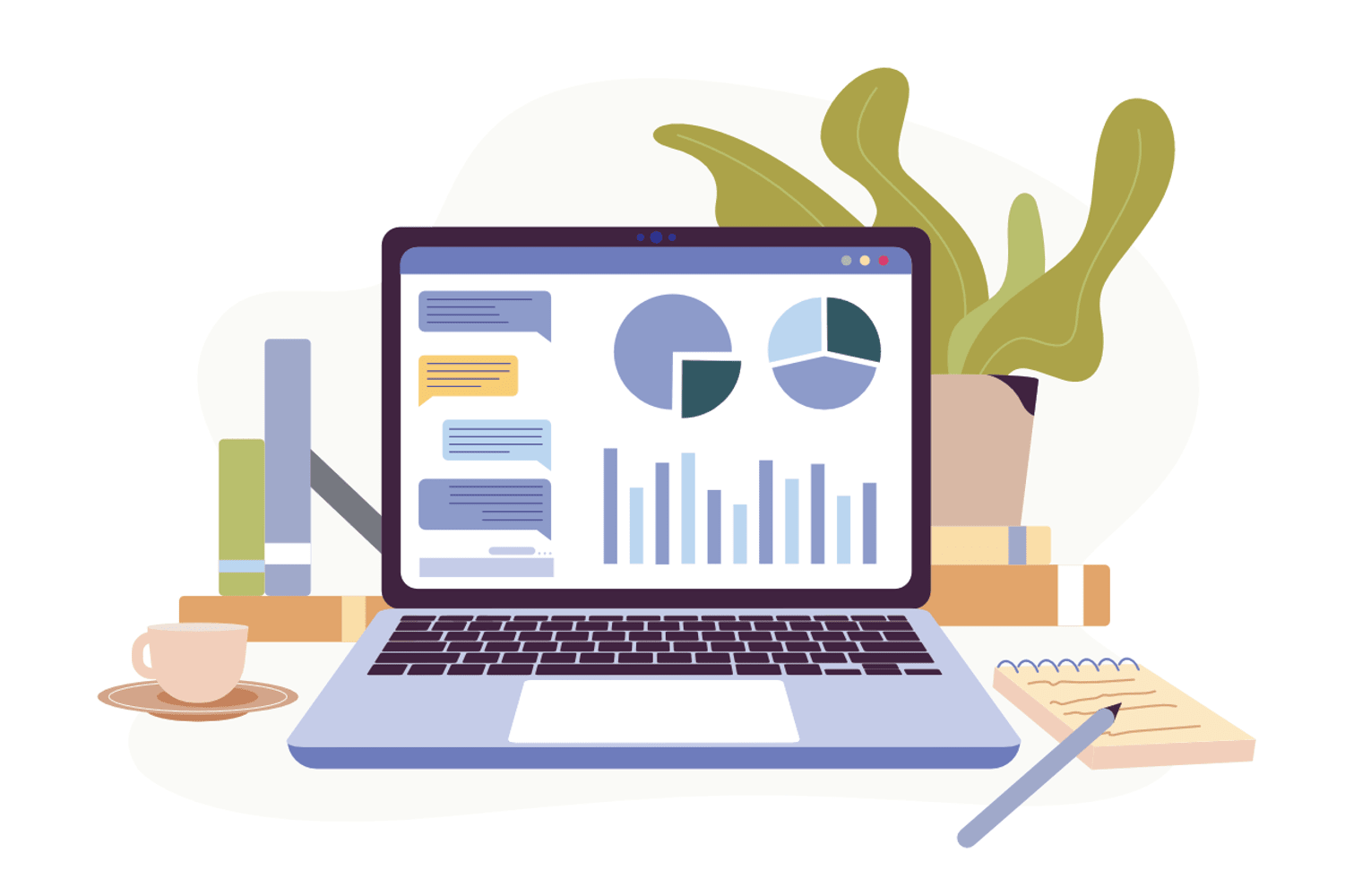 Contact us if you would like to learn more about the new opportunities
of collaboration in sales.
Introduction in days – not weeks
Focus on your individual business benefit
No own infrastructure – no maintenance
Your independence is our goal
Efficient remote collaboration
Proactive roadmap from your multiple Microsoft Gold certified partner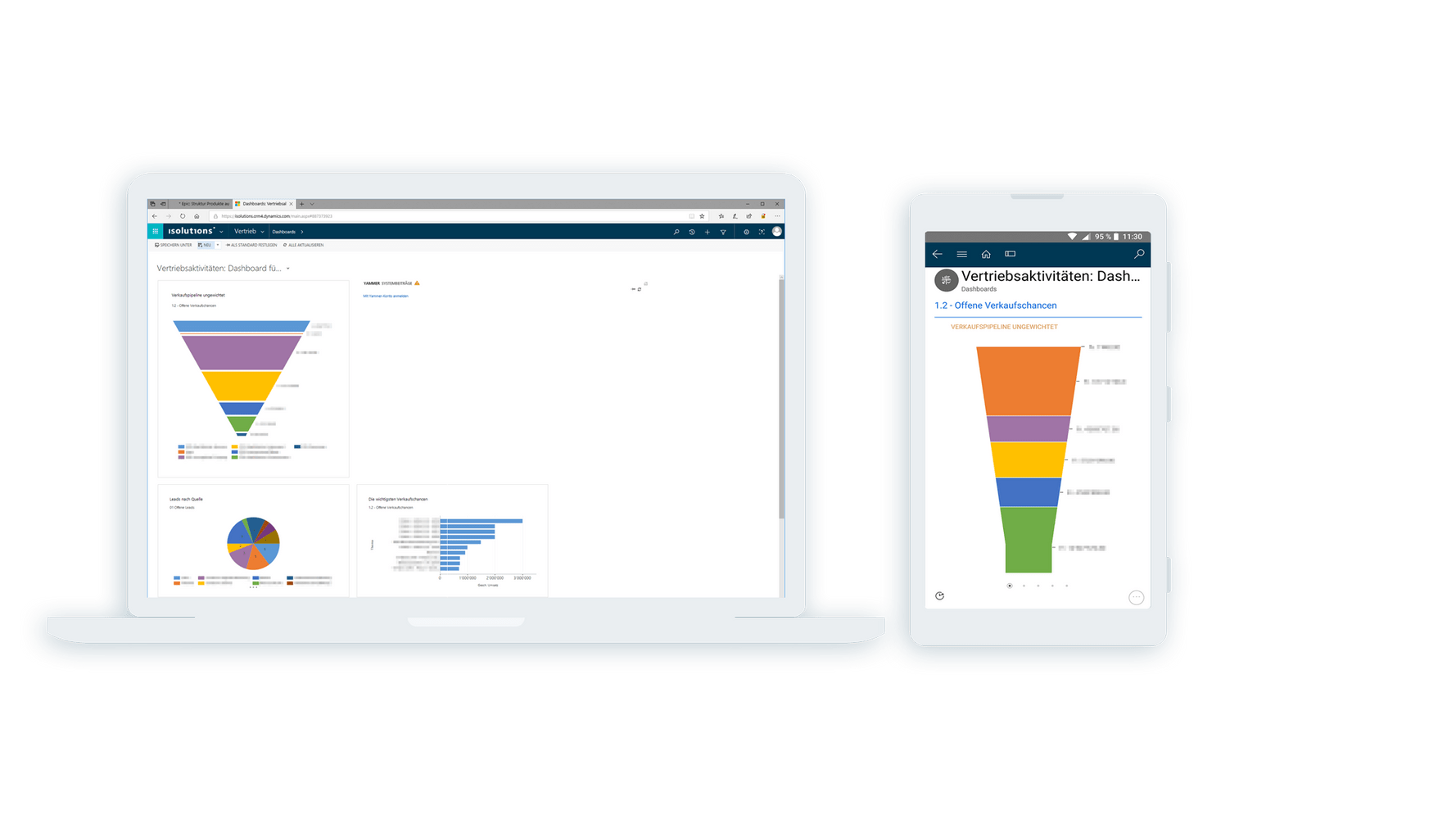 Management or maintaining friendships?
Structure your sales processes  in the cloud, without any risk. We know the needs of sales, marketing and customer service and work closely with your IT department. In this way, a solution tailored to your company is created in a short time. The combined use of Dynamics 365 and Office 365 will help you get started.
With marketing automation you professionalize your online communication. In just a few days, you'll receive landing pages, online forms, surveys and automated campaigns, fully integrated into your Dynamics 365. Combine sales, marketing and customer service into a 360° customer experience – all in your familiar CRM environment.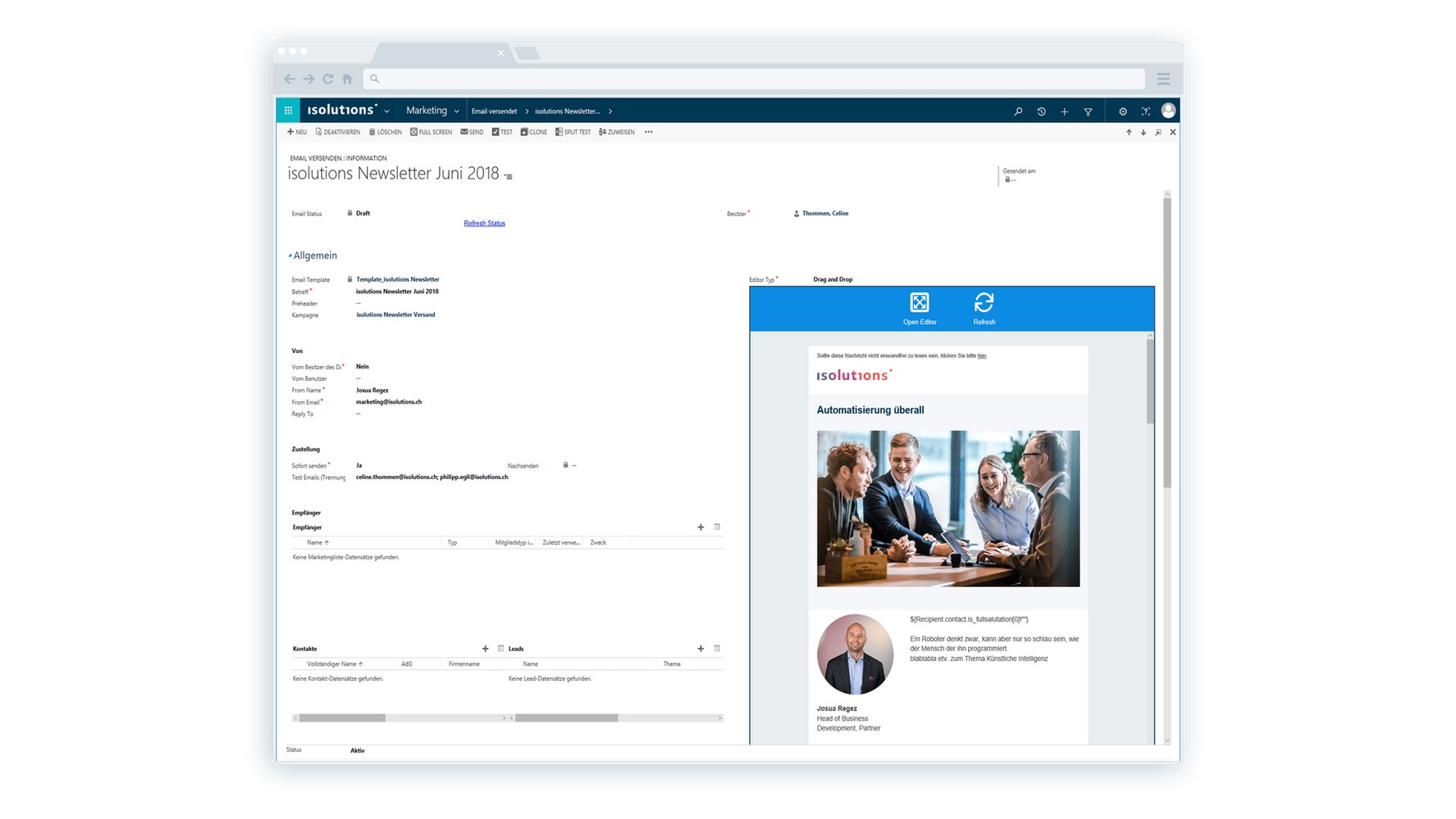 Your marketing optimization opportunities:
Better results through the merger of Digital Marketing & CRM
Big Data under control: Simple data maintenance and performance measurement
Stronger customer loyalty thanks to targeted and personal communication
Orchestrate digital marketing activities clearly and centrally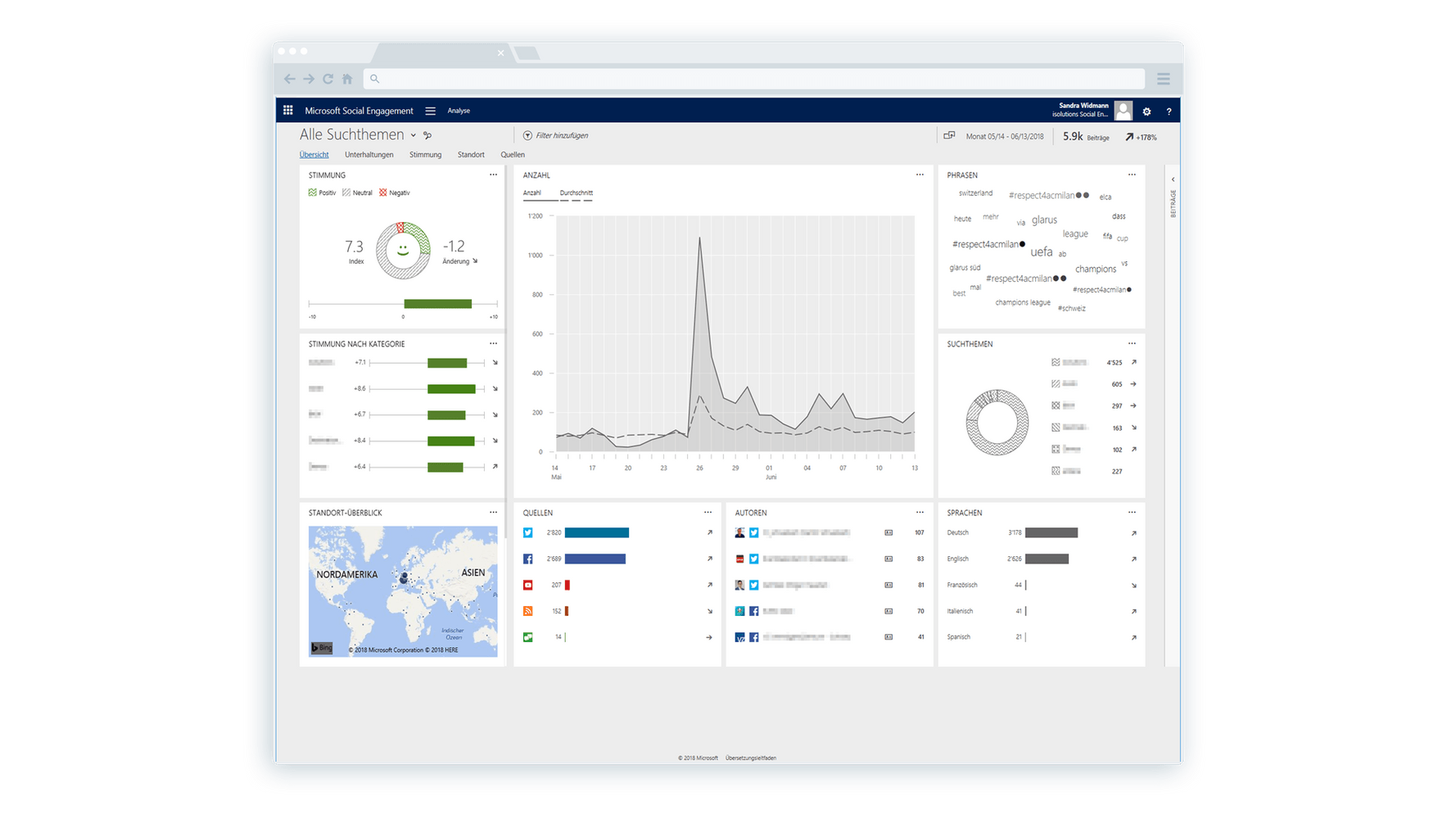 Start the dialogue with your customers and improve your online reputation. Social engagement visualizes topics, markets and conversations based on machine learning. This enables you to recognize trends quickly and act with foresight. The easy integration into Microsoft Dynamics supports you with this and promotes user-friendliness.
Artificial Intelligence & Data Mining
Increase efficiency thanks to the latest technologies.
Optimizing customer benefits with artificial intelligence. Image and speech recognition are no longer just dreams of the future. Through the targeted use of Azure Cognitive Services, artificial intelligence has been democratized. You can also let your company data work for you – a piece of cake with the Azure Knowledge Mining functions.
Learn more.
Learn more.
Deliver a compelling customer experience from start to finish. The customer journey does not end with the sale. Customer loyalty is central in the B2B and B2C sectors. Offer fast, personalized service and support your employees with intelligent processes and instructions so they can easily and smoothly meet customer expectations. Reduce costs while continuously improving your service delivery through data-based decisions and integrated intelligence. The result is a completely new quality of service.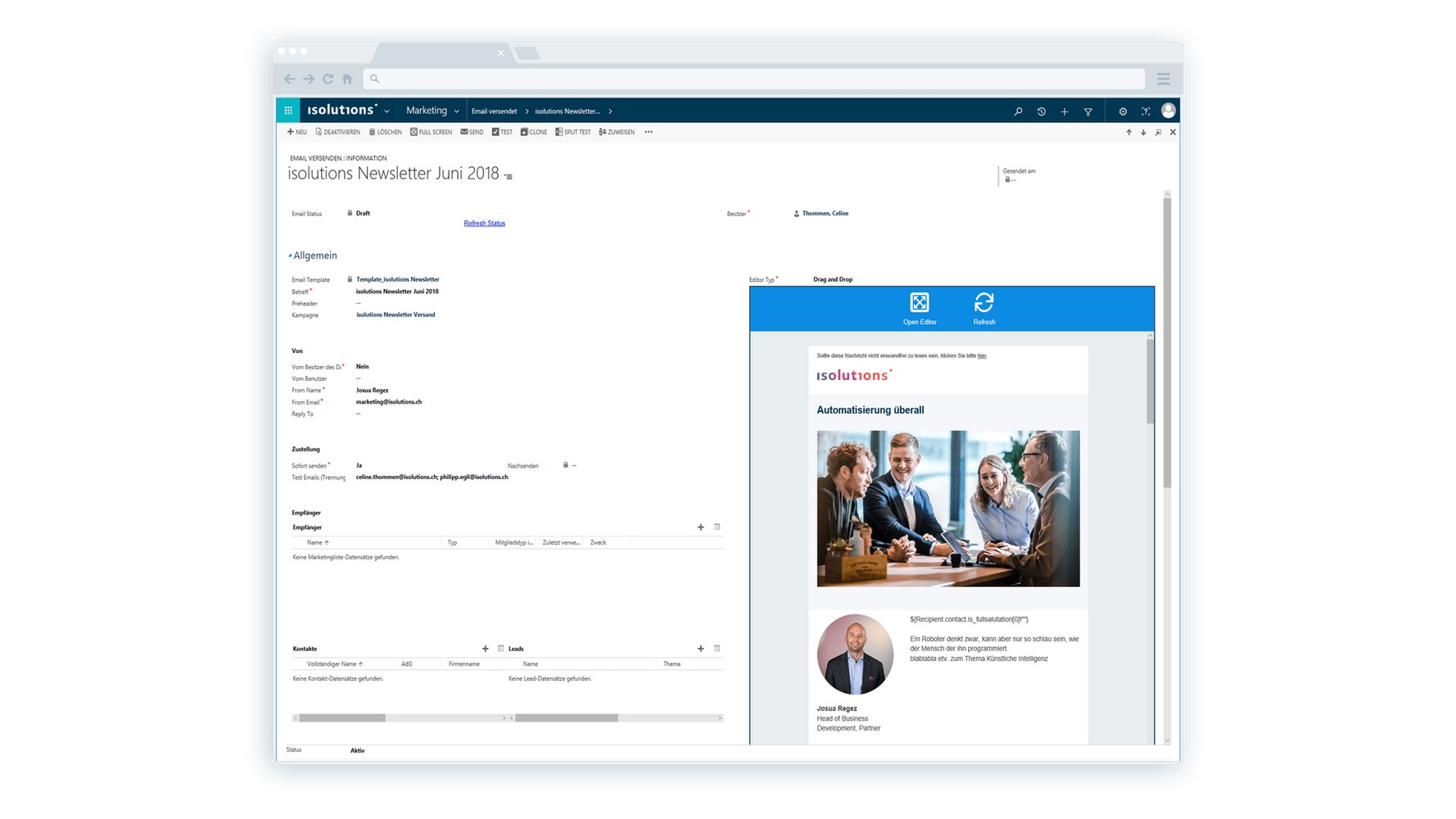 "isolutions as a partner enabled Biella to call in external know-how and resources for the project on a selective basis in order to build up the internal organization. The success: a lean, fast and cost-effective introduction of Dynamics CRM Online".
Martin Dietrich, Project manager, Biella
"The project was realized in close cooperation and with high quality in phases according to plan. The first going live was already after 4 months."
Daniel Meier, Project Manager, Verband öffentlicher Verkehr (VöV)