Biella – CRM with 360° customer view
Customer information from different systems at a glance united in Dynamics CRM Online
Biella branded articles with the SwissMade award are the heart and soul of the company – over 5,000 articles are still manufactured at the headquarters and production site in Brügg near Biel. With the Biella Group, Biella also carries its regulatory competence beyond national borders. Swissness" also remains an important aspect in production locations such as Germany, Great Britain, Poland and Romania. Supplemented by four logistics centers and a Europe-wide distribution network, the Biella Group operates as a leading and high-performance supplier of office supplies in the European market.

Vorteile von Dynamics 365
View on customer information
Necessary data is always available
Problem-free data exchange
For their daily work, employees rely on Microsoft Outlook and Exchange. The CRM solution (based on Lotus Notes) used up to now no longer met the current requirements of customer-oriented support. The Lotus Notes environment will also be completely replaced within the Biella Group. Biella therefore evaluated a future-oriented platform that covers the needs of the employees. The new solution should integrate the data from the ERP system (IFS Applications) and provide employees with a comprehensive all-round view of their customers in order to be able to provide transparent and timely information about what is happening in and around the company.
Together with isolutions, Biella has implemented a tailor-made solution based on Microsoft Dynamics CRM Online to meet the requirements. A flexible and easily extendable interface to the existing ERP system (IFS Applications) was developed in close cooperation. This means that the necessary data within the CRM is available to the sales staff at any time. A further interface automatically makes the documents generated from the ERP system available on Office 365 (SharePoint Online). This makes the ERP documents also usable within the Dynamics CRM online system.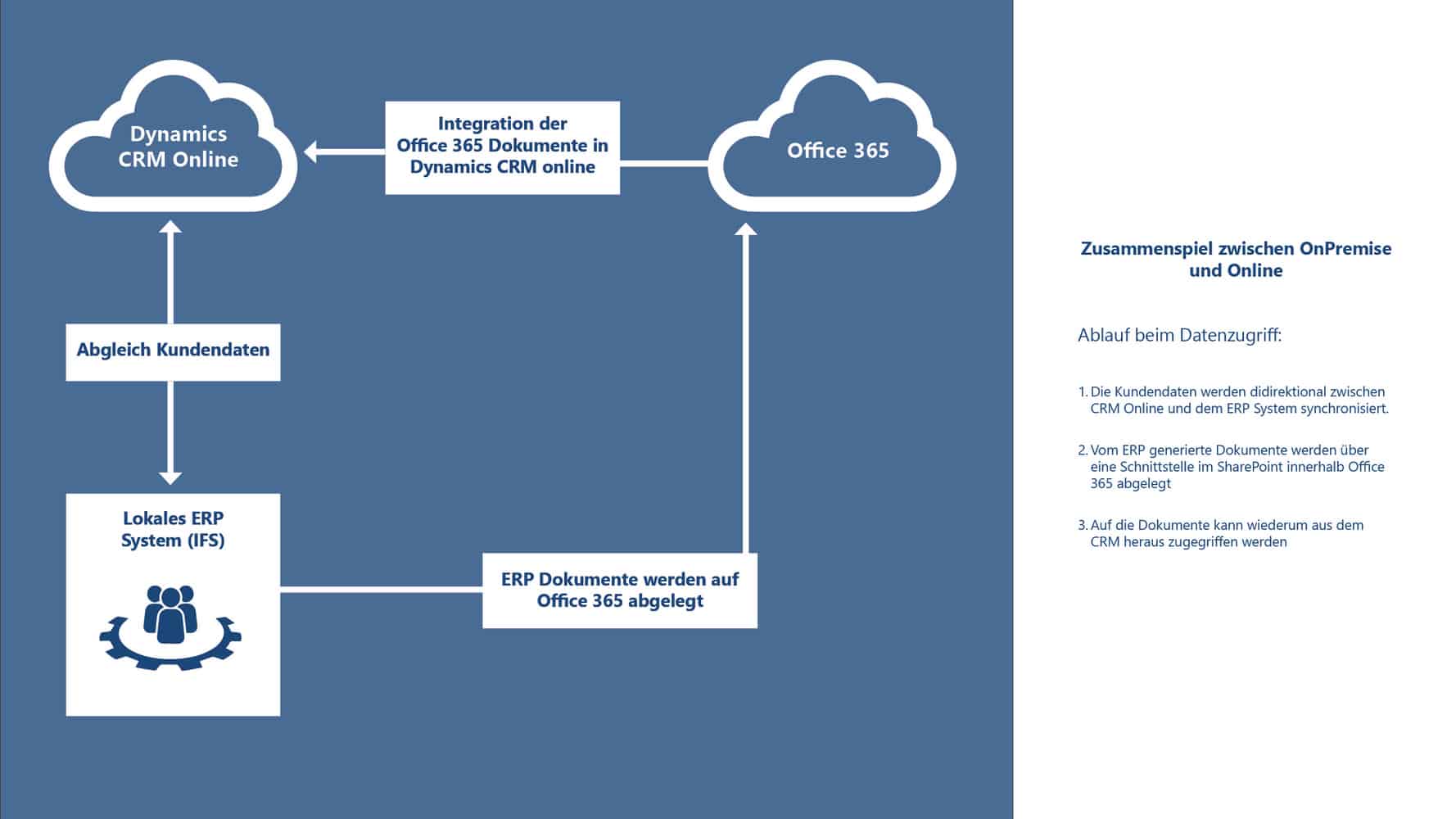 "isolutions as a partner enabled Biella to call in external know-how and resources for the project on a selective basis in order to build up the internal organisation. The success: a lean, fast and cost-effective introduction of Dynamics CRM Online".
Martin Dietrich, Project Manager, Biella
The optimal integration of Dynamics CRM within Outlook enables intuitive working without much additional training effort.
The implemented interfaces enable data to be exchanged between the systems simply, automatically and without media breaks, without the user having to switch between the individual applications.
With this solution, the employees receive a comprehensive all-round view
to all necessary customer information, such as open sales opportunities, activities, contact and visit information, and marketing and sales activities